Communal kitchen
On floors one to six a communal kitchen is available. The kitchen does not only offer a space for cooking, but also a cosy atmosphere for social gatherings.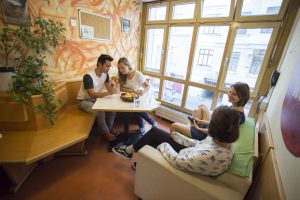 ---
Study room
On the seventh floor, a small study room is available, in case you want to concentrate solely on your studies without interruption – the key to the study room can be picked up during the office hours.
---
Bicycle storage room
In case you want to take your bicycle to Vienna, the bicycle storage room is the perfect place for safe-keeping. Keys are available in exchange for a small fee at the office.
---
Surf station with free internet access
If you don't have a personal computer or laptop, but either need something off the internet, to print something, or if you simply have to write an assignment we have got you covered with two computers (and a reading nook + TV) as well as a laser printer, which is accessible at all times.
---
Music room
If you enjoy playing an instrument, you do not have to miss out while staying at ÖJAB-Haus Salzburg. A music room, big enough to also store larger instruments, is located in the basement.
---
Laundry room
The laundry room provides a professional washing machine as well as a tumble dryer. There is now a webcame available to keep track of your laundry's progress. Washing tokens can be purchased at the office for € 2,20.
---
TV room
Grey's Anatomy is on and your TV is 300 miles away? No worries! The student residence offers you two TV rooms so that you never miss your favourite TV show.
---
Table tennis room
To always keep moving, a big table tennis room, which also contains a table soccer table and a TV, is accessible at all times. The room is used for events too.
---
Yard
Especially during the summer months, our yard becomes increasingly popular – regardless if you wish to study or just to meet up with friends to get tanned.
---
Sauna
During the academic year sauna evenings in the residence's own sauna take place twice a week:
Monday
Girls 17.00 – 19.30 Uhr Boys 19:30 – 22.00 Uhr
Wednesday
Girls 19.30 – 22.00 Uhr Boys 17.00 – 19.30 Uhr
The sauna will be unlocked on sauna days by the management team (only when requested).
---
Guest room for short visits from relatives*
Your parents or close relatives want to get to know Haus Salzburg or the city of Vienna, but unfortunately, they do not seem to find an accommodation near you? No problem, at the ÖJAB-Haus Salzburg a guest room is waiting for your relatives. If you want to make use of this service, a reservation at the office must be made and a small fee is charged.
*to be booked by residents only – during the academic year (September – June)!